Start Your IT Career with ServiceNow Developer Training and Certification
I know many people who really want to become software developers but don't want to code. Well, the good news is you can start as a no-code developer with ServiceNow Developer Training and Certification!
Yes, you read that right!
Some applications use a Graphical User Interface (GUI) for development and configuration, which means little to no coding is required!
Consider these questions.
Do you want to be a software developer?
Is writing scripts or code NOT your style?
If you answered Yes to any of these questions, you should check out the ServiceNow Developer career path.
ServiceNow is an in-demand field that has a lot of job opportunities. It is an excellent option if you don't know how to code but want to start a software development career. There's also plenty of ServiceNow Developer Training that you can use to get started.
You do not need a technical degree to begin a career as a ServiceNow developer, and it allows for remote work!
Take a look at the average salary.
Salary: The average annual salary for ServiceNow Developers is around $105,989.
What ServiceNow Developers Do
First, what is ServiceNow?
ServiceNow is an IT Service Management enterprise application that is used by organizations to manage service requests to various departments in an organization.
Think of it as a set of applications that organizations use to manage tickets or requests from employees, customers, or business partners.
Some examples of service requests include helpdesk tickets about computer problems, customer requests about new phone service, HR tickets about healthcare enrollment questions, and customer requests to extend a line of credit.
Being able to effectively address service requests is critical to how some businesses function. So, service management is an essential function of any organization.
ServiceNow is made up of different solutions (workflows) and products. These solutions and products are based on the type of service request the solution is designed to process.
The ServiceNow workflows and associated products are listed below. Each workflow addresses a specific business need, and the applications around it are designed to meet that need.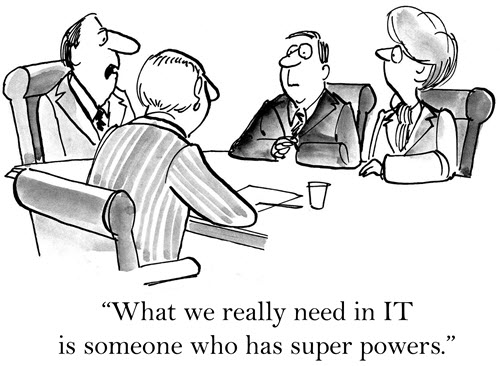 IT Workflows
IT Service Management
IT Operations Management
IT Business Management
IT Asset Management
DevOps
Security Operations
Governance, Risk, and Compliance
Telecommunications Network Performance Management
Employee Workflows
HR Service Delivery
IT Service Management
Legal Service Delivery
Workplace Service Delivery
Customer Workflows
Customer Service Management
IT Operations Management
Field Service Management
Connected Operations
Financial Services Operations
Telecommunications Service Management
Now that you have an idea of what ServiceNow is, what do ServiceNow developers do?
ServiceNow developers are responsible for configuring the applications in ServiceNow based on their organization's needs. ServiceNow Developers will work with other developers and the business partners/users in the organization to configure applications.
ServiceNow development is great because you do not need to know coding to start and there are many ServiceNow Developer Training options. ServiceNow utilizes GUI-based configuration, which reduces the barriers to entry because no-coding is required for simple applications. There are some advanced configuration items that need coding, but you can learn those as you develop your skills.
As a ServiceNow Developer, you can either work as a consultant or work directly for an organization. You can also go be a freelance developer and work as an independent contractor.
As I mentioned before, you can work remotely in this field, making it a great career option for those who need flexibility.
Technical Skills Required
The primary technical skill you need is to have knowledge of ServiceNow development. ServiceNow Developer Training and Certification information can be viewed on the ServiceNow training website.
One thing I love about their training is that they provide A LOT of free training, including a free live environment for you to practice! They have several free sessions to introduce you to the application as well as paid sessions.
The ServiceNow Developer training and certification for developers can be found on this direct link. You will need to create an account to access the information.
Which ServiceNow training you should start with
After you have accessed the ServiceNow Developer training website and created an account, you should be redirected to the main training page.
There are 2 options to find the right ServiceNow training certification information.
The first option is to scroll down and select the checkbox for 'Developer' under the 'Select Role' menu option on the left. Then also select the checkbox for 'Beginner' under the 'Select Level' menu option. This will bring up a list of ServiceNow training options that are for those selections.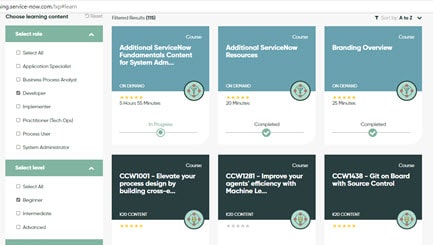 The second option is to use the 'Service Now Learning' search box on the website's top right corner.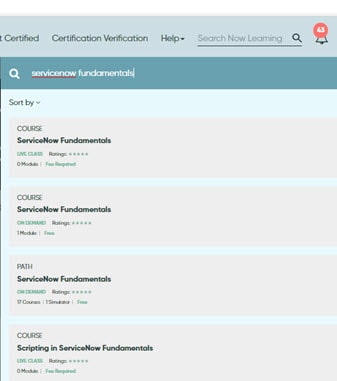 Click on that search box and type 'ServiceNow Fundamentals' in the search box that opens just below it. A list of courses and course paths will show up.
Select the 'ServiceNow Fundamentals' option listed as a 'PATH.' This path is a comprehensive FREE training that includes over 17 courses. It's the same training I took to learn more about ServiceNow.
Relevant Certifications

:

After you complete ServiceNow Developer training, it is advisable that you also consider getting a ServiceNow Developer certification. ServiceNow offers 4 ServiceNow certifications.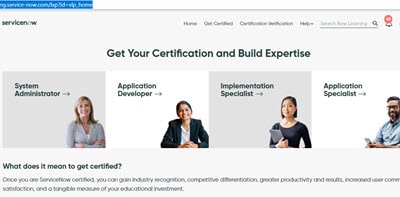 Certified System Administrator
Certified Application Developer
Certified Implementation Specialist
Certified Application Specialist
The certification applicable to ServiceNow development is called the Certified Application Developer.
The ServiceNow certification for Certified Application Developer does require a few paid training courses that you can find HERE. One of the courses is a scripting (coding) course. However, this is for the certification, and you can start a ServiceNow developer career without having certification to begin with.
Why the ServiceNow Developer IT Career Path is Great for Women
The ServiceNow developer career path is a great option for women because it allows for flexibility with remote work options. It also has a low entry barrier because it does not require a degree or coding skills to get started!
If you want to eventually learn scripting/coding, you can take additional training to level-up your skills.
Find ServiceNow Developer Jobs
You can find ServiceNow developer jobs on many sites. Here are some sites where you can search for ServiceNow developer jobs, including remote jobs.

There you have it. The information you need to know about ServiceNow Developer Training and Certifications to get started in that field. Have you heard of ServiceNow before? Which of the workflows sound interesting to you and would you be interested in a career as a ServiceNow developer?
You can also check out these other posts related to IT Career path jobs.